Sales Analytics Lets You
Say Goodbye To:
Poor Performance
By analyzing sales data, businesses can identify areas where sales performance can be improved and take steps to address them.
Manual Processes
Through automatic sales analysis, businesses can identify inefficiencies in their sales processes and optimize them for better results.
Inefficient Decision-Making
With sales analytics software, businesses gain the tools and expertise needed to properly analyze their sales data, leading to actionable insights and improved decision-making.
Inadequate Analyses
No more faulty or insufficient analyses. A sales analytics solution helps you understand every aspect of your performance through accurate, data-based analyses.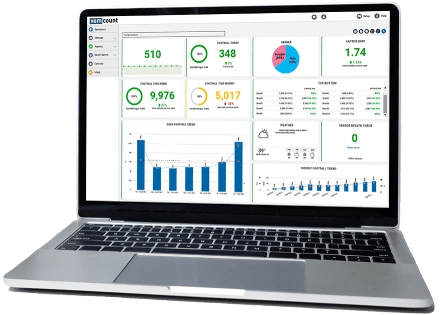 Vemcount
Vemcount is our
in-house developed data and sales analytics software,

providing you with everything you need to analyze your sales data.

Through Vemfusion, Vemcount collects all sales data through easy POS integration.
Vemcount: The Only Software You Will Need for Sales Analytics
Sales KPIs

Live Inside

Customizable Dashboards

Tailored Reports

Real-Time Alerts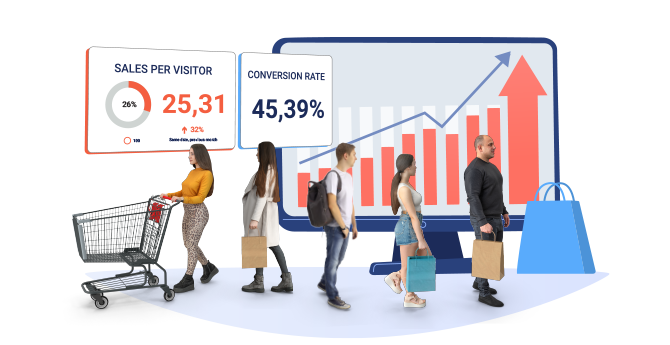 Seamlessly integrate with your POS system for instant access to vital sales KPIs like conversion rate, average basket size, sales per visitor, and more.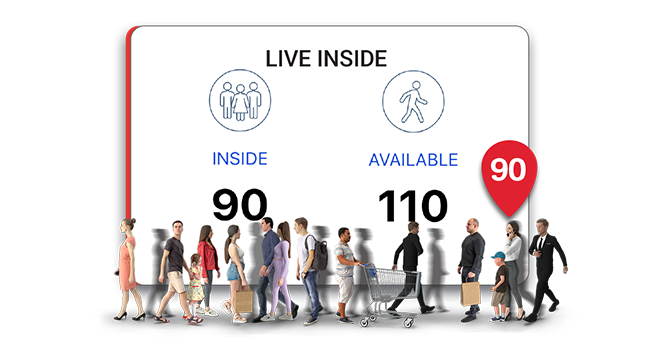 Track occupancy levels in real-time with our software. Accurately count and display the number of people entering and exiting your premises throughout the day.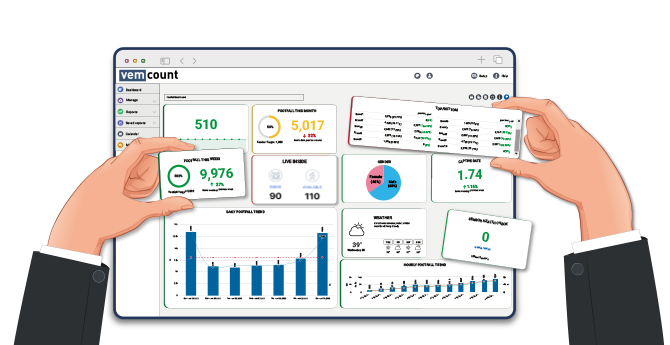 Make the most of your sales data with our fully customizable dashboard. Choose the widgets you want to see to get a customized overview of your sales KPIs.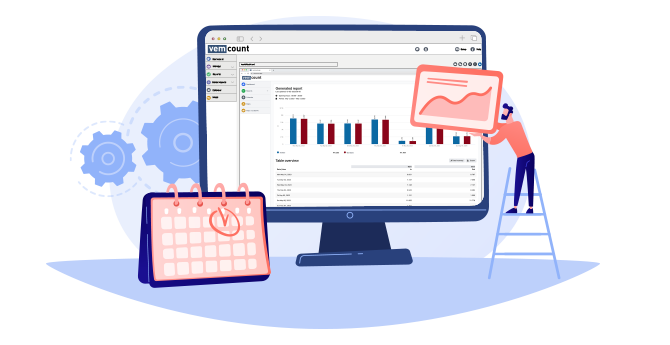 Extract tailored sales reports on a daily, weekly, or monthly basis to get a complete overview of your performance. Compare historical and current data to track growth.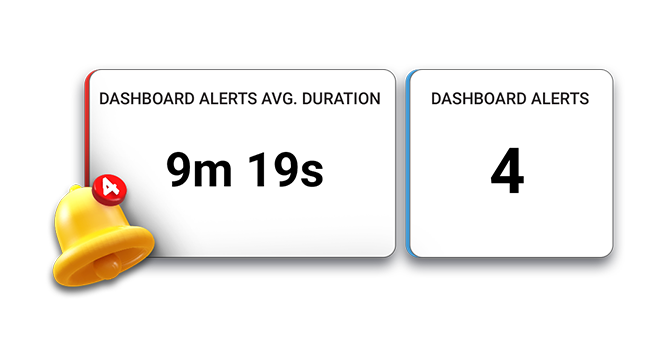 Stay informed on your sales data with our system's real-time alerts. Get notified about conversion rates, daily sales, and more via email or SMS.
Sales Analytics for Any Industry
Sales analytics is a versatile solution that can be tailored to various industries, providing valuable insights into customer behavior and business performance.
Our technology caters to diverse businesses like retail stores, malls, supermarkets, and more, enabling accurate tracking of footfall traffic and sales data. By harnessing these insights, businesses can optimize their operations and elevate the customer experience, resulting in boosted profits.
A Solution to Every Problem
Frequently Asked Questions
What Is Sales Analytics?
Sales Analytics refers to the process of collecting, analyzing, and interpreting sales data to gain insights into sales performance, customer behavior, and market trends. It involves using various techniques and tools to make data-driven decisions that drive sales growth and improve overall business performance.
Why is a Sales Analytics solution important for businesses?
Sales Analytics is crucial for businesses as it provides valuable insights into sales performance, customer preferences, and market trends. By leveraging sales analytics, businesses can identify growth opportunities, optimize sales strategies, improve customer targeting, enhance sales forecasting accuracy, and make data-driven decisions to achieve better results and stay competitive in the market.
What types of data can be analyzed using Vemco Group's Sales Analytics solution
Our solution lets you discover a long list of important sales KPIs, including:
Turnover (the income of one or more transactions)
Man hours (the number of hours spent for X number of sales)
Average basket size (number of items sold divided by the number of transactions)
Conversion rate (number of transactions divided by the number of visitors)
Sales by area (turnover divided by the location's square meters)
Sales per transaction (turnover divided by the number of transactions)
Sales per visitor (turnover divided by the number of visitors)
Transactions (The number of transactions, meaning the result of a purchase leading to a receipt. This can contain X amount of items)
Units (number of items sold)
Sales productivity (number of transactions divided by man hours)
How can Sales Analytics help improve sales performance?
Sales Analytics can improve sales performance in several ways:
Identify sales trends and patterns to optimize sales strategies and target high-potential customers.
Evaluate and enhance the effectiveness of marketing and promotional campaigns.
Identify bottlenecks in the sales process and optimize workflows for increased efficiency.
Provide insights into customer preferences, allowing businesses to personalize offerings and enhance customer experience.
Facilitate sales forecasting and goal setting based on historical data and market trends.
Is Sales Analytics suitable for businesses of all sizes?
Yes, Sales Analytics is beneficial for businesses of all sizes. Whether you are a small startup or a large enterprise, analyzing sales data can provide valuable insights to drive growth, enhance decision-making, and improve sales performance. The scalability and adaptability of sales analytics tools allow businesses to tailor their analytics approach according to their specific needs and resources.
What tools or software can be used for Sales Analytics?
We believe our Vemcount solution is the perfect software for any business wishing to start analyzing its sales data in profitable ways. It is a comprehensive analytics platform that combines people counting with data analytics in ways that optimize business performance. Through Vemfusion – our integration system – Vemcount draws on data directly and seamlessly from your POS system to provide you with accurate, real-time sales data
Let's Get in Touch!