What Makes Vemcount Special
Live Inside

Demographics

Employee Exclusion

Customizable Dashboards

Tailored Reports

Sales KPIs

Real-Time Alerts

Passersby Analysis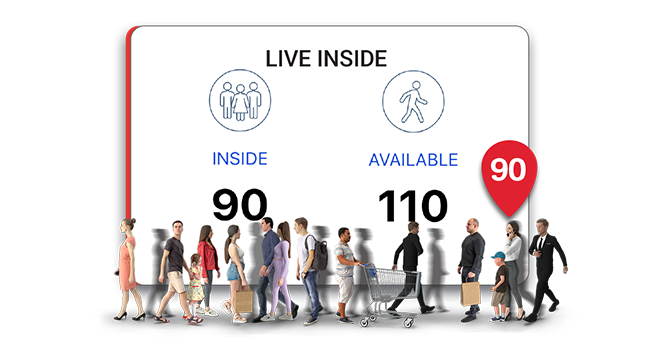 Keep constant track of your incoming visitor numbers. Our software shows you the real-time occupancy levels of your facility, so you know exactly how many people enter and exit throughout the day.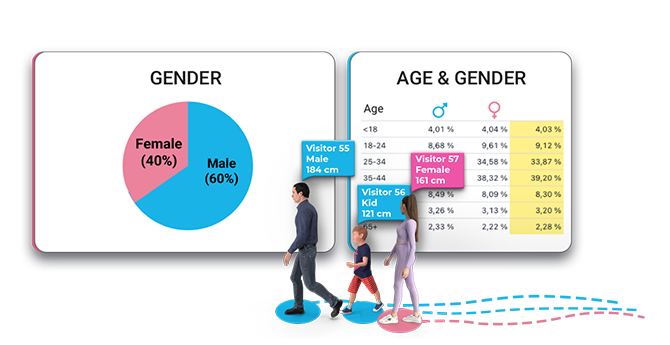 Get ready to tailor your marketing efforts to fit the actual demographic of your business. The AI implemented in the installed sensors can detect the gender and age of your incoming visitors, for optimized campaign strategies.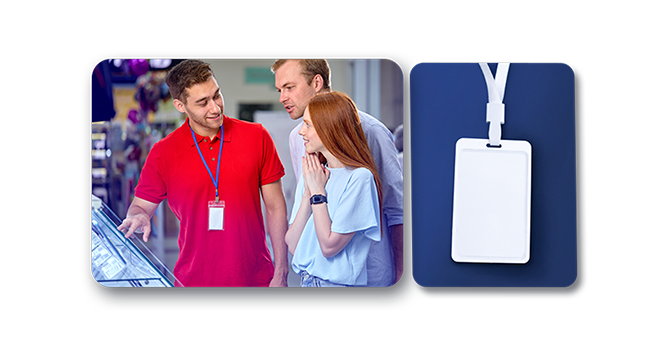 Part of the way we ensure at least 98% data accuracy is by excluding your staff from incoming visitor counts. This way, only relevant footfall numbers are counted toward your final performance results.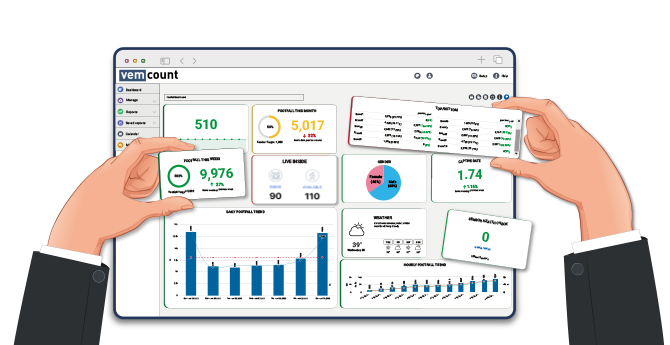 Start playing with your data. Our dashboard is completely customizable, allowing you to design it the way you want it by adding the widgets YOU want to see. Set up multiple dashboards based on your desires.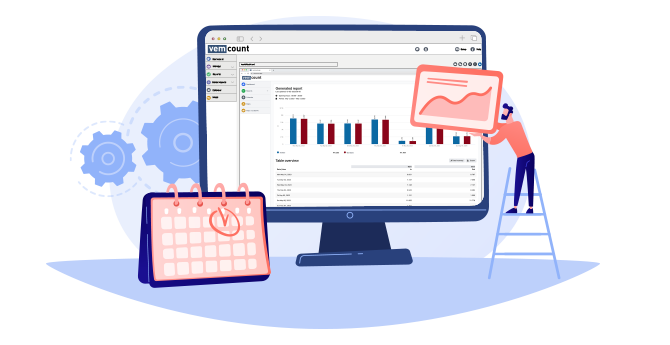 Gain the full overview of your data by extracting tailored reports on a daily, weekly, or monthly basis. Our reports add the final analytical touch to your data, allowing you to compare historical and current data to see your growth.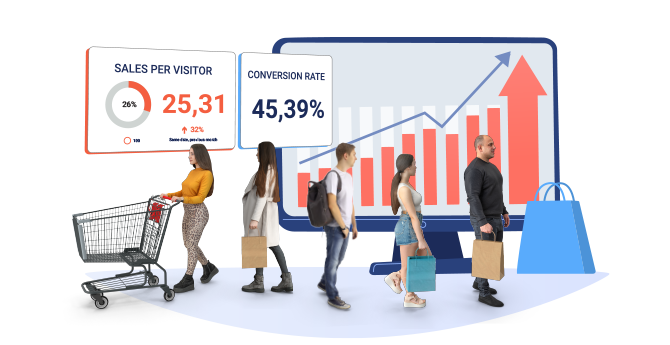 Through easy integration with your preferred POS system, you gain immediate access to the most important sales KPIs, including conversion rate, capture rate, average basket size, sales per visitor, and more.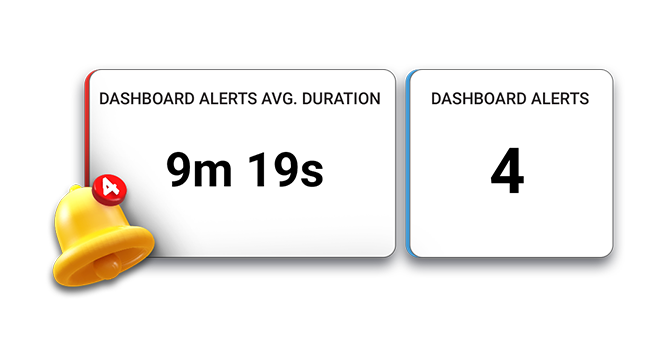 Our system is fully equipped to send you real-time alerts regarding your data, including live visitor counts, queue formations, and more. Receive the alerts via email or SMS, so you can act in time.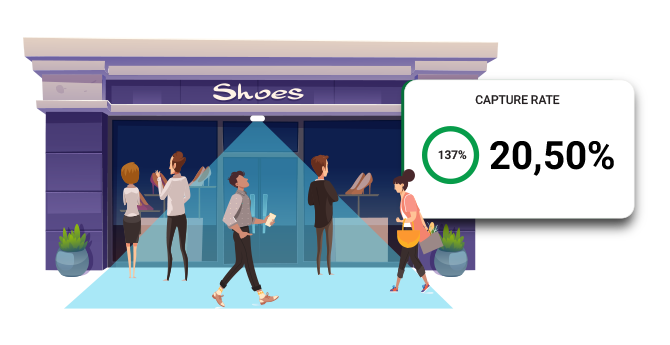 Discover the effectiveness of your window displays. By counting the passersby outside your store, we help you understand your capture rate to help you improve your window and storefront displays.
Say goodbye to counting sheep…
… and hello to people counting! With us you can rest easy at night, knowing we have got your counting covered.
The Complete Solution: How Vemcount Is Enhanced by Our Other Top Sellers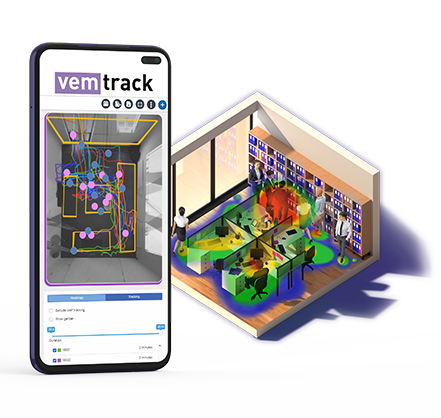 Vemtrack
Combine Vemcount with our Vemtrack solution for a full customer journey solution that will take customer experiences to new heights.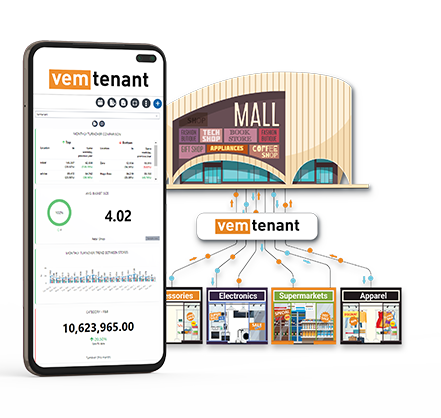 Vemtenant
By combining Vemcount and Vemtenant, you not only gain access to your mall's traffic numbers, you also get to enjoy automatic tenant revenue management.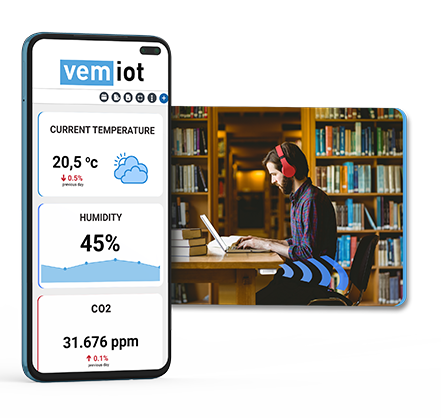 Vemiot
Combine Vemcount with Vemiot to access even more detailed data regarding your business. It is automatic, accurate, and all you will ever need.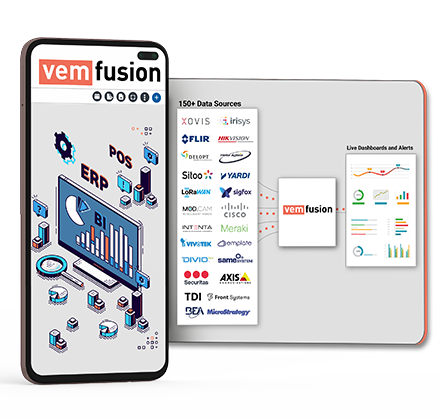 Vemfusion
Through Vemfusion, we ensure that our Vemcount software easily integrates with all existing POS, BI, ERP, and CRM systems for an all-encompassing experience.
A Solution to Every Problem
Frequently Asked Questions
What is Vemcount's purpose?
Vemcount is a software solution designed to help businesses and organizations understand and optimize their physical space utilization by providing accurate data on foot traffic patterns and visitor behavior. Vemcount's people counting technology uses advanced sensors and algorithms to count people as they enter and exit a building, store, or other physical space.
The data collected by Vemcount can then be analyzed to provide insights into visitor flow, peak hours, and other important metrics. This information can help businesses make informed decisions about staffing, marketing, and resource allocation, leading to improved operational efficiency and better customer experiences.
What are Vemcount's key features and benefits?
People Counting: Vemcount uses advanced sensors and algorithms to accurately count the number of people entering and exiting a physical space, including retail stores, shopping malls, museums, airports, and more.
Real-time Data: Vemcount provides real-time data on foot traffic patterns, visitor behavior, and other key metrics, enabling businesses to make informed decisions on staffing, marketing, and resource allocation.
Data Analytics: Vemcount offers advanced analytics tools to help businesses gain insights into visitor flow, peak hours, and other important data points. The software also enables users to customize reports and data visualizations based on their specific needs.
Customization: Vemcount can be tailored to meet the specific needs of different businesses and industries, with a range of customization options available, including integration with other software systems.
Privacy and Security: Vemcount is designed with privacy and security in mind, with measures in place to ensure the protection of customer data.
Which sensors are used to run the Vemcount solution?
We use market-leading sensor technologies including 2D, 3D, IoT, WiFi, and much more to ensure we can match each specific need of our customers. Which sensor is needed for your business will depend on your wishes for having a people counting solution. Additionally, we will evaluate ceiling height and room dimensions to establish which kind of sensor is needed to fulfill your needs.
What is the difference between a 2D and a 3D sensor?
A 2D people counting sensor is designed to detect the presence of people and count them in two dimensions, typically by measuring changes in infrared light as people move in and out of the sensor's detection area. These sensors are often used in areas like doorways, corridors, or aisles, where the movement of people is limited to a single plane. On the other hand, a 3D people counting sensor uses advanced imaging technology like stereoscopic cameras or time-of-flight sensors to detect and track people in three dimensions. This allows for more accurate counting and tracking of people, even in complex environments with multiple levels or obstructions. 3D people counting sensors can also distinguish between people and objects, reducing false readings.
Is the software offered as a SaaS model?
Yes. Vemcount is a SaaS (Software as a Service) model software, meaning it is a cloud-based software delivery model where the software provider (Vemco Group) hosts the application on their servers and makes it available to customers over the internet. Customers pay a subscription fee to access the software without needing to install or maintain it on their own computers or servers.
Is the product easy to assemble, and are instructions included?
You need not worry about assembling and installing the solution. Our specialized team will help you with the entire process.
Is Vemcount suitable for outdoor use?
Yes! We use the best sensor technologies, which are resistant to all weather conditions.
What is your warranty or return policy?
We offer a warranty period of 1 year on all hardware equipment purchased through Vemco Group. It is possible to purchase an additional 2-year warranty, ensuring sensors are covered by the warranty for 3 years. When we identify defects or errors, we send an authorized technician from Vemco Group who assesses whether the hardware in question contains a manufacturing defect, whether it has been damaged during setup, or whether it has been damaged by the client. Equipment damaged by the client must be replaced by an amount equal to the sales value of the equipment. Equipment with manufacturing defects or with damage from setup will be replaced as soon as possible.
How can I get in touch with customer support if I have any questions or issues?
You can reach out at any time if you need assistance in any way. Visit our contact page to find the local email or phone number for your region.