Work with Us to Build a Smarter, More Connected World
As our partner, you will receive dedicated support, training, and resources to help you succeed. Our solutions can help you differentiate yourself in the market, increase customer satisfaction, and boost revenue. Whether you are a systems integrator, a sensor provider, or a value-added reseller, we have a partnership program that can meet your needs.
We believe in building strong, long-term relationships with our partners, and we are committed to your success. Join our network of partners today and take your business to the next level.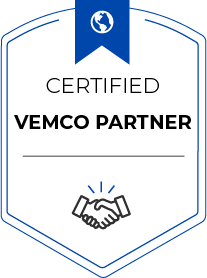 Why Choose Us
Unlock the Power of Data to Drive Business Growth & Improve Customer Experience.
Choose Vemco Group for your people counting and data analytics needs, and experience the difference that our innovative solutions, unmatched accuracy, and exceptional support can make for your business.
0

.1B

Yearly people counts
Frequently Asked Questions
How do I become a partner with Vemco Group?
To become a partner with us, you can fill out the contact form on our website, and a representative will be in touch with you shortly to discuss partnership opportunities.
What are the benefits of becoming a partner with Vemco Group?
The benefits of becoming a partner with us include access to cutting-edge technology and industry-leading expertise, dedicated support, training, resources, and opportunities to expand your reach and revenue. Additionally, you will have the ability to offer innovative solutions to your customers and differentiate yourself in the market.
What types of partners does Vemco Group work with?
We work with a variety of partners, including systems integrators, resellers, technology consultants, sensor providers, and other types of organizations that can benefit from offering our people counting and data analytics solutions. If you are unsure of whether your business is a match, do not hesitate to reach out.
What kind of support and resources can I expect to receive as a partner?
As a partner, Vemco is committed to providing you with the most comprehensive onboarding process possible. Our Sales Engineering Team will assist you with your business cases and opportunities, while our Marketing Team will provide you with logos, high-resolution product images, sales slides, and other relevant marketing material.
Are there any training or certification requirements to become a partner?
Although there is no mandatory training to become a partner, we highly recommend utilizing our online tutorials to gain a better understanding of selecting appropriate sensors for your application and establishing a proper data and remote connection to our people counting and data analytics software. In case you purchase the sensor from our webshop, we will preconfigure it for immediate connection to our software and provide remote setup and validation services to give you and your team more time for planning and executing the installations.
Can partners offer their own branding or white-label Vemco Group's solutions?
Vemco provides its partners with a White Label version of our software, which enables them to incorporate their company name, logos, and website URL. All emails sent by our software will also be sent using your domain. Please note that an annual fee is charged for utilizing the White Label version.
Are there any geographical or industry-specific limitations to becoming a partner with Vemco Group?
We are seeking partners who possess prior knowledge and experience in CCTV, people counting sensors, or IoT sensors. Our primary markets include retail, shopping malls, smart buildings, transportation hubs, event spaces, and city centers. Having pre-existing business relationships in any of these markets would be advantageous. We are presently operating in 86 different countries and offer our software in 19 different languages. We welcome partners from all corners of the world and would be thrilled to include your language on our platform if it is not already available.
A Solution to Every Problem